Spring Cleansing
with Ayurveda

by Ragaia Belovarac & Megan Darwin

Clients feel renewed, refreshed, and healthier than ever after experiencing Pancha Karma. Unlike many fad cleanses of the day, Pancha Karma is tried and true, derived from the ancient wisdom of the Vedas.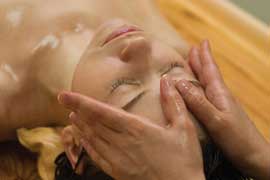 FREE!
Holistic Health Newsletter!
Subscribe

Natural Weight Loss Program recommended by The Share Guide
learn more


About Share Guide

Holistic Health Articles

Health Directory

Reviews

Advertise

Links

Contact us


Do you have a
Holistic Business?
Get listed in Share Guide's Holistic Health Directory for only $9.95 per month. For more info Click Here




With the Spring season upon us comes nature's optimal opportunity for cleansing and rejuvenation. The vibrant new energy begins to abound. As we observe nature's metamorphosis, so too are similar changes occurring within our own bodies. The Spring energy enlivens all life, and we can think of the changes in our environment as a reflection of our own inner system. It is this seasonal window that the ancient tradition of Ayurvedic medicine deems most supportive of physical cleansing.

Ayurveda teaches us that it is during these peak seasonal transition periods that our bodies are also best suited and supported to eliminate toxins, purify, and rejuvenate. A healthy body will naturally do its part to harmonize and balance itself through the annual cycles. However, as we age our bodies often become more challenged with the natural rebalancing. Offering our body the tools it needs to cleanse and rejuvenate becomes more important as we progress in age.

The time-tested Ayurvedic cleansing process is called Pancha Karma, and offers a gentle and thorough detoxification of the entire system, beginning with the G.I. tract. In the USA a routine Pancha Karma cleanse can last anywhere from 7-30 days. With the guidance of trained Ayurvedic practitioners, clients receive daily oil massage, shirodhara (warm oil poured over the third eye, a nervous system balancing treatment), therapeutic purgation, and therapeutic herbal sweats.

All of these treatments, in addition to consuming a mono-diet of kitchari (a delicious Ayurvedic whole food), encourage toxins that are stuck in the tissues of the body to release and be expelled. Clients feel renewed, refreshed, and healthier than ever after experiencing Pancha Karma. Unlike many fad cleanses of the day, Pancha Karma is tried and true, derived from the ancient wisdom of the Vedas.

It is common knowledge these days that many diseases are born from the toxic load that we bear, poor digestion and a clogged up colon. Pancha Karma addresses each of these issues directly and with great efficacy. These toxins literally get lodged in the tissues of the body (especially fat cells), and through the process of Pancha Karma they are dislodged and safely flushed out. Concurrently, digestion is being stimulated and managed, while the G.I. tract is encouraged to eliminate any unnecessary buildup. This may all sound a bit overwhelming, but Pancha Karma is quite a rewarding and comfortable experience. After all, what other cleanse includes daily herbal oil massage, relaxing oil therapies, and intoxicating herbal steams?

Deciding to dedicate time and capital towards building and maintaining a healthy body will not only add years to your life, but it will increase the quality and joy of those years. Over 5,000 years of evidence through Ayurveda proves this to be true. Take the time to cleanse your body of the toxins and buildup of last year--and probably many years prior. Ayurveda advises us to take the time during the change of seasons to cleanse our bodies. The return on investment for personal health is abundant. Give your body the opportunity to operate at its highest potential!

Nestled in the Sierra Foothills rests Blue Sage Sanctuary, an Ayurvedic haven dedicated solely to the practice of Pancha Karma. The impeccable team of Ayurvedic Pancha Karma Specialists will lead you through this profound process with the utmost of care. Within this private environment of total immersion clients receive the full benefits of yoga, meditation and Ayurvedic body therapies. For more information call (888) 878-5222 or visit www.bluesage-ayurveda.com.

Shop Books & CD's for Ayurveda

Related Info:

Eating For Health
A Glossary of Bodywork Therapies
Detoxification: The Fast Lane to Vitality
Do You Need to Detox?
Choosing the Best Cleanse Program
Detoxing the Liver
Detoxification and The Detox Diet: An Important Healing Process
The Role of Pure Water in Detoxification
The World of Healing Spas
Japanese Enzyme Bath: Metabolic Rejuvenation
---
Natural Weight Loss Program

recommended by The Share Guide:

learn more
MORE HEALTH ARTICLES

FREE! If you liked this article, you'll love The Share Guide's
Holistic Health Newsletter. Click here to subscribe for free!
---
Home

Health Directory

Articles Index

Interviews
Shop

Links

About Share Guide

Contact us